There are two main techniques for valuing companies; relative and intrinsic valuation. Both have a place and offer different perspectives on the value of a company. Simply Wall St uses both methods, incorporating them into the checks that form the valuation arm of our snowflake.
Relative valuation uses ratios (known as multiples), and compares them to other groups of companies. An easy way to think about this is comparing the price of one product, to the price of similar, or comparable products.
Intrinsic valuation focuses on fundamentals of the company itself, and is generally more involved. As it sounds, this gives us an estimate of the underlying value of the company based on certain assumptions and inputs.
The most common multiples used in relative valuation are Price to Earnings (P/E), Price to Sales (P/S) and Price to Book (P/B). The question is which of them is the best one to use? For some companies, all of them can be useful, while for others only some of them make sense, or even provide any information at all.
Price to Earnings ratios are useful for companies that are profitable, and have meaningful earnings compared to their valuations. Mathematically, the P/E ratio provides no information if a company is loss making (unprofitable). If a company has very small earnings then the PE ratio could be quite high, and will change rapidly with very small changes in earnings from quarter to quarter. Therefore, we use Price to Earnings for companies that are profitable, and have a PE ratio below 150.
Price to Sales is generally the next best option. Companies will more consistently have revenue, with only very few early stage companies having no revenue at all. This means that for most companies, we can calculate a P/S ratio by dividing the market capitalisation by revenue. Generally, very high growth companies and those in the earlier stages are best valued using Price to Sales.
Price to Book is useful in particular for banks or other financial institutions for whom the value of their assets are particularly important, typically because they generate their generate income from their asset base. It is calculated by dividing the market capitalisation by the book value of the company. The book value of a company is the value of its assets minus the value of liabilities.
Below is the process for how we determine which above ratio is appropriate for the stock you're viewing.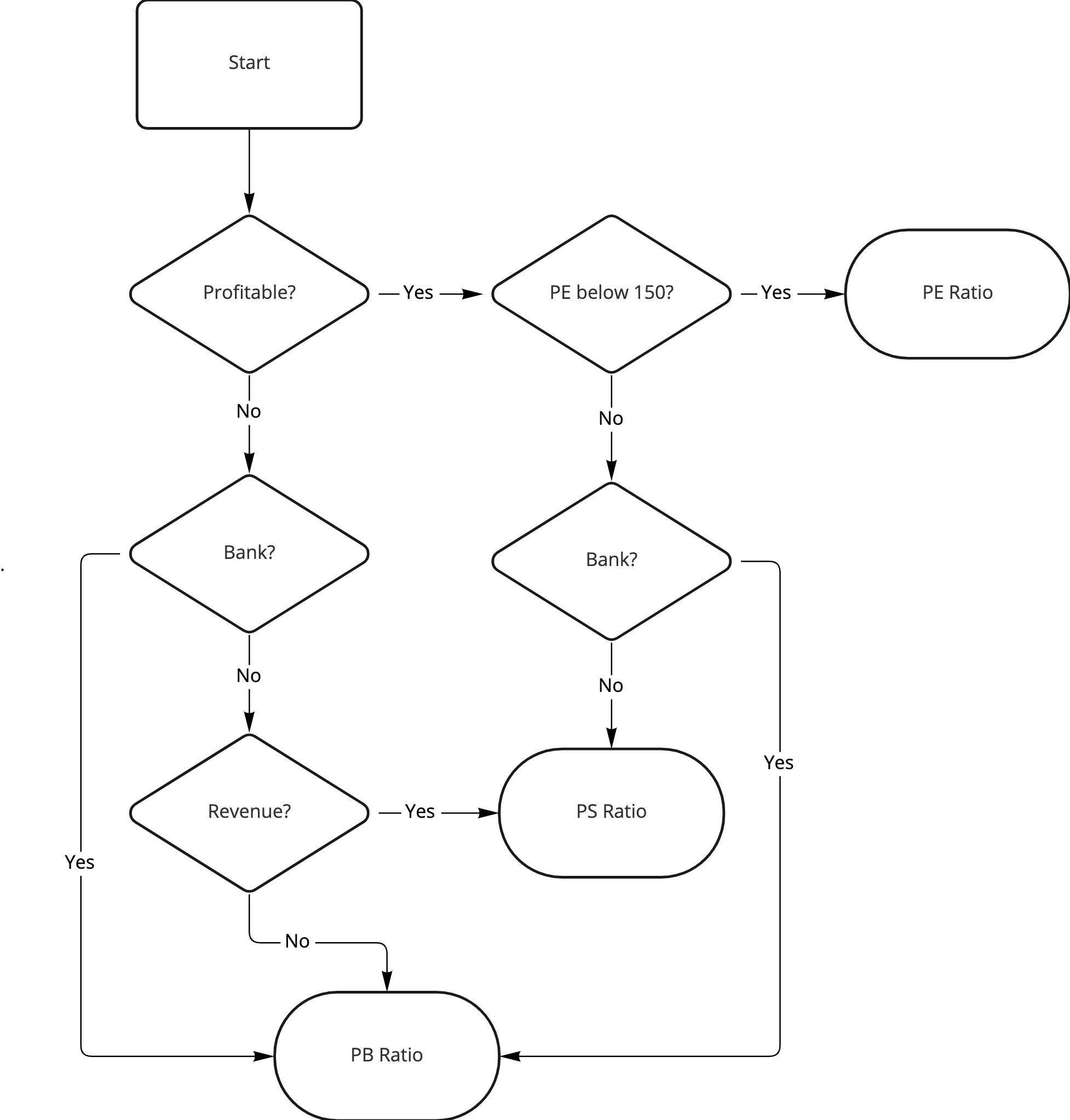 Once you have selected a multiple, the next step is to compare the multiple for the company you are valuing to the same multiples of similar companies. The question is, which companies should we compare to?
The investment industry uses the term 'peers' to describe companies that are similar to each other. They may be competitors, but they may also just be companies producing similar products in similar conditions. There are a range of factors that go into selecting a group of peers, and it can actually be quite a challenging thing to do. Factors that can be included are basics like the industry and country and company is in, as well as more detailed factors like its growth stage, margins and assets.
Investment professionals who focus on a particular group of companies for a long time develop a good intuitive sense for who a company's peers are. At Simply Wall St, we have developed a tool that builds this intuition using thousands of data points and sophisticated techniques. This allows you to do a relative valuation using a high quality set of comparisons that are relevant to the stock in question.
While comparing with peers is very helpful, sometimes you may also want to cast a wider net to gain a greater perspective. Comparing your target company to the whole industry can help you to understand how its valuation compares to a wider range of companies. This can be particularly useful to identify if your company sits in a niche that is valued much higher or lower than the industry as a whole.
While companies might be in the same industry, they are often at different stages of the business cycle. Therefore, it's important to assess comparative valuations within an industry with context of where each company is on their own lifecycle. Earlier high growth companies can attract higher valuations from investors based off their future potential, whereas more established and lower growth businesses in the same industry might attract lower valuation multiples because of their comparatively lower growth prospects.
Relative valuation is great, because it's fairly simple. All you need is a metric, and a group of companies to compare to. But that simplicity comes at a cost - it means that you aren't valuing the company on a fundamental basis.
Fundamental valuation focuses on the properties of the company itself, and relies on inputs and assumptions being put into different models to generate an estimate of fair value. Using fundamental valuation models like the Discounted Cash Flow (DCF) suffer from a different problem to relative valuations. To reliably value a company using this technique, you need a lot of data. Essentially, this data needs to tell you two things;
How much the company is growing, and

How risky that growth is.
Growth, and risk. If we can understand how the market prices both of these elements then we can bridge the gap between relative and fundamental valuation. The Simply Wall St Fair Ratio does just that. We've used thousands of data points, and developed a model that tells us how much the market wants to pay for growth, with a specified level of risk.
Simply put, for every market and industry, we've calculated the correlating growth and risk factors that are statistically significant in determining the market's sentiment towards a stock.
For each company, we can then compare any valuation metric, be it P/E, P/S or P/B, to our expectation of what the market would pay. The variance, either over or under, is where the opportunity may lie.
The Fair Ratio is part of Simply Wall St's continuous efforts to use data to push the boundaries of understanding potential value.
Intrinsic valuation focuses on the company itself, and compares the current price to an estimate of fair value. Theoretically, the value of a company is the present value of all the future cash flows it can provide to shareholders. To get this value, the Discounted Cash Flow (DCF) method is used. This method uses inputs and assumptions about the underlying business to project the cash flows generated each year in the future, and then discounts each year back to today's present value and adds them together. Depending on the company we use a slightly different DCF method.
Simply Wall St uses 4 variations of DCF depending on the characteristics of a particular stock, such as its industry and data availability for the company.
2-Stage Discounted Cash Flow Model
Suitable for companies that are not expected to grow at a constant rate over time. These companies tend to be high-growth initially and become stable after a couple of years.

Dividend Discount Model (DDM)
Suitable for companies that consistently pay out a meaningful portion of their earnings as dividends.

Excess Returns Model
Used for financial companies such as banks and insurance firms. These companies generally do not have a significant proportion of physical assets and face different regulatory requirements for cash holdings to other businesses.

Adjusted-Funds-From-Operations (AFFO) 2-Stage Discounted Cash Flow Model
Used for Real Estate Investment Trusts (REITs) as these companies incur capital gains and other real estate-specific factors which impacts their free cash flows.
Understanding a company's future earnings growth expectations is crucial to knowing whether the current price today is fair or not.
The Price to Earnings Growth (PEG) ratio is valuation metric that incorporates a business's estimated future earnings growth rate into the Price to Earnings multiple. Mathematically, it divides the PE ratio by the expected growth rate of the company's earnings.
A PEG ratio of over 1x is generally considered to be overvalued (because you are potentially overpaying for the expected future growth in earnings), while a ratio below 1x is considered to be undervalued (because the price might be under-appreciating the future growth in earnings).